I am glad to share with you the new project of my friend, the Celtic Harpist Anne Roos... She has recently collaborated on this epic world music production called "Winds of Samsara" , which is a perfect example of the ideals of peace and global harmony transformed on a unique musical journey to world music.
Anne is not only the administrator of the cute "The Celtic Harp Music" blog, but she also owns a cute taste at the moment to choice her music list. She is in great demand for corporate and private events and continues to be a favorite to play for weddings and receptions.
Throughout the album we may listen to awesome ethnic perfomers and talented artists.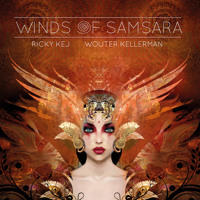 Hereby is the link to the song "Eyes of Wonder" where she performs the Celtic Harp...
"Eyes of Wonder" was composed by Ricky Kej and Prakash Sontakke
Produced by Ricky Kej and Wouter Kellerman
Arranged by Ricky Kej and Keerthy Narayan
Lyrics by Prakash Sontakke
Published by Raveolution Studios (BMI)
Flute: Wouter Kellerman
Vocals and Indian Hawaiian guitar: Prakash Sontakke
Harp: Anne Roos
Keyboards and bass: Ricky Kej
Keyboards and strings arrangement: Keerthy Narayan
String section: Cochin Chamber (Herald)
Percussion: Varsha Gowda
Additional keyboards: Tholsi Pillay
Recorded at Raveolution Studios in Bangalore by Vanil Veigas
Strings recorded at Sound Factory in Cochin by Keerthy Narayan
Harp recorded at Tanglewood Productions in Reno by Michael Eardley
Flute recorded at Kellerman Music in Johannesburg by Wouter Kellerman